For

American

&

International

Graduate

students 
Summer 2017
NEW! If you are a graduate student and in GCF, please seek to join the Illinois GCF Facebook group!   
News: GCF's new president for 2017-18 is Beth Ann Williams taking over from Stephen Mayhew. Pictured is Beth Ann and an African friend. Beth Ann has recently returned from Africa where she was doing research for her PhD in African History.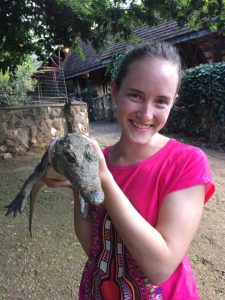 Sign up for the summer dinner rotations (each person takes turns hosting or making the meal for others in the dinner group. Sing up for these through this link.
Monday prayer meeting that meets most Mondays 5:15 to 6 pm in the worship space at St. Andrew's on the corner of Wright and Chalmers Streets in Champaign. Just come into the building and cross through the lounge area and to into the worship space to join us for prayer.  
Especially if you are new to the U of Illinois or new to GCF, thank you for looking for us or stumbling upon our site.  If you are a graduate student – American or International – at the University of Illinois and you're interested in joining Christian graduate students as we seek to follow the Lord Jesus Christ, then please let us know who you are!    Please contact us here.  
We are affiliated with InterVarsity Christian Fellowship/USA and in particular part of InterVarsity's ministry to graduate students and faculty members. GCF seeks to be a community of graduate students that embodies, believes and shares generously the good news that Jesus Christ is Lord.
Whether you're an American or International graduate student, single or married, follower of Jesus or still spiritually searching, whatever your academic discipline, ethnicity or culture, GCF warmly welcomes you.
If you are an International student who is at the U of I to earn your PhD or your masters degree, then please contact us about getting involved in GCF.  We love and want International graduate students as part of the life of our graduate fellowship.