For

American

&

International

Graduate

students 
Fall 2016  
 Winter Retreat is Friday January 13 to Saturday evening January 14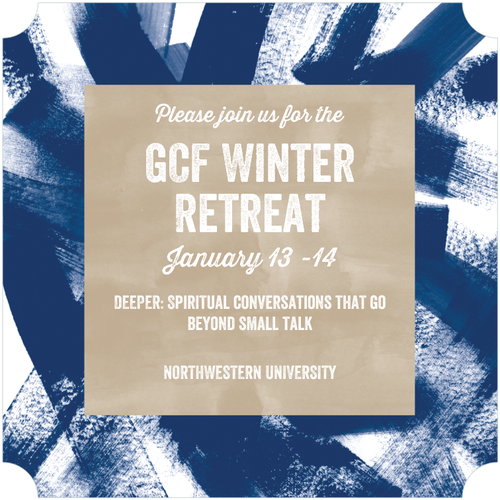 We join the GCFs from Northwestern U (our hosts), U of Chicago and Purdue U.  Our theme is "Deeper: Spiritual Conversations That Go Beyond Small Talk."  Please lock in those dates and plan to return in time.  REGISTER THROUGH THIS LINK.
There will be ride coordination!
NEW! If you are a graduate student and in GCF, please seek to join the Illinois GCF Facebook group! 
SMALL GROUP BIBLE STUDIES continue (note the Thursday small group is now closed to new members).  If you've not yet signed up (either at the Welcome Dinner or online) please do so.
Monday prayer meeting that meets most Mondays 5:15 to 6 pm in the worship space at St. Andrew's on the corner of Wright and Chalmers Streets in Champaign. Just come into the building and cross through the lounge area and to into the worship space to join us for prayer.  
Especially if you are new to the U of Illinois or new to GCF, thank you for looking for us or stumbling upon our site.  If you are a graduate student – American or International – at the University of Illinois and you're interested in joining Christian graduate students as we seek to follow the Lord Jesus Christ, then please let us know who you are!    Please contact us here.  
We are affiliated with InterVarsity Christian Fellowship/USA and in particular part of InterVarsity's ministry to graduate students and faculty members.
GCF seeks to be a community of graduate students that embodies, believes and shares generously the good news that Jesus Christ is Lord.
Whether you're an American or International graduate student, single or married, follower of Jesus or still spiritually searching, whatever your academic discipline, ethnicity or culture, GCF warmly welcomes you.
If you are an International student who is at the U of I to earn your PhD or your masters degree, then please contact us about getting involved in GCF.  We love and want International graduate students as part of the life of our graduate fellowship.