Spring 2021
What – Life Without Lack / Romans
We are finishing up our study on Life Without Lack | Living in the Fullness of Psalm 23 by Dallas Willard. (Fall semester we began going through the eight chapters of the book, discussing applications to our lives, and studying how biblical heroes embodied the traits pertaining to the life without lack outlined in the book and the Bible). We will then study the book of Romans.
When – MONDAY evenings at 7 to 9 pm (Previously on Thursdays)
Where – Zoom or outdoors as announced
Leaders – Ted and April Townsend. April and Ted attend Windsor Road Christian Church. April is a third year Physics PhD student and Ted is starting his first year as a masters student in the mathematics department.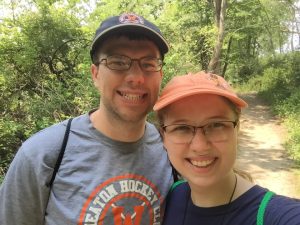 Please "sign up" using the following form for more details and specific information so Ted and April can know to expect you.