Fall 2021
What – A Manuscript Study of 1 Peter
In 1 Peter we catch a glimpse of the trials that the early church went through, such as false teachers, persecution, and corrupt doctrines. Despite the bleak times, Peter reminds Christians that there is hope in the midst of suffering. Many of these trials that the early church went through are relevant to us today. As we study 1 Peter, we will see how much of what Peter wrote is an encouragement and challenge for us to live our lives for the glory of God – in grad school and beyond.
When – Thursday evenings from 19:00 – 20:30. 
Where – Hessel Park Christian Reformed Church, 700 W Kirby Ave, Champaign, IL 61820
In order to continue meeting in person, we are asking all that are able to test weekly at some point before coming to small group. Thank you for your understanding as we navigate this tricky time!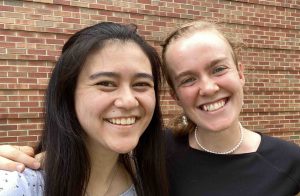 Leaders – Kayla Russell and Charlotte Yoder became friends through a GCF small group last year. They enjoy stargazing and wandering through sunflower fields, though maybe not both at the same time.
Kayla is a 2nd year mechanical engineering student and attends Christ Community. Fun fact is that she was actually born in Urbana but lived in Texas for essentially her whole life. For undergrad she went to the University of Texas at Austin. 
Charlotte is a 3rd year computer science student and attends St. Patrick Church. She was born in Brazil, Indiana and went to Rose-Hulman Institute of Technology for undergrad. 
Please "sign up" using the following form for more details and specific information so Kayla and Charlotte can know to expect you.