There's still time to register for the January 12

-13, 2018 joint GCF Winter Retreat.
Our U of I GCF joins GCF students from Northwestern U, Purdue U, U of Chicago and maybe this year Indiana U–pray that some will come from there.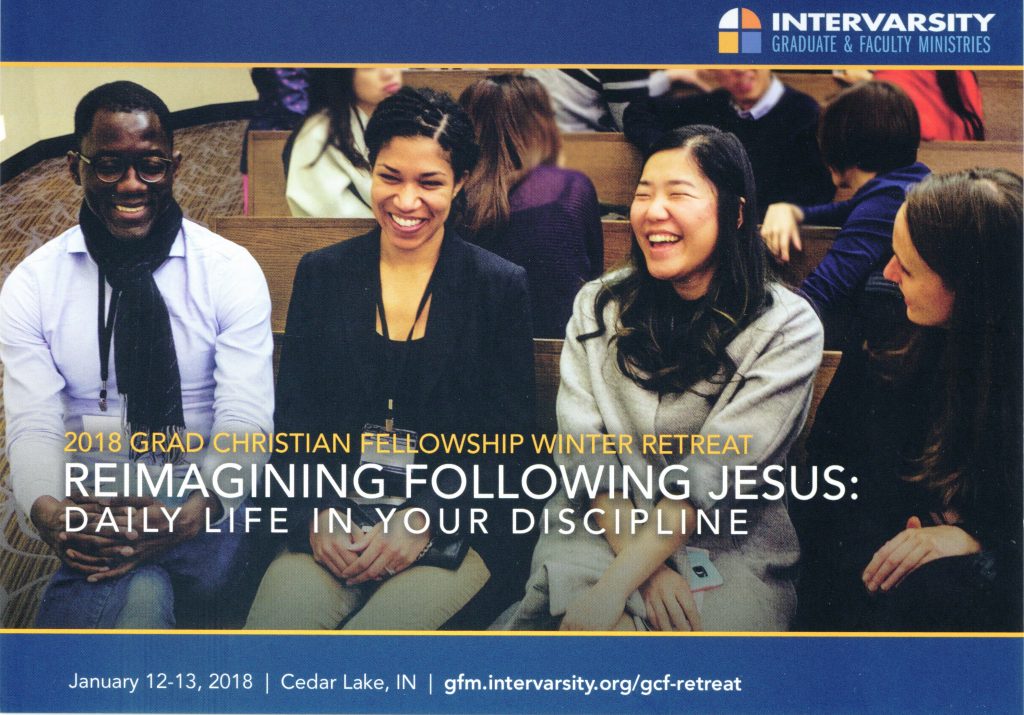 This image is to promote our GCF Winter Retreat that will be at a conference center in Cedar Lake, Indiana.  (We needed to move from Evanston, IL to an overnight conference center.)  Our Theme is Reimagining Following Jesus: Daily Life in Your Discipline.  Two Wheaton College Profs will speak. One is Dr. Becky Eggimann, associate professor of Chemistry.  Becky did her PhD at U of Minnesota and was in GCF there. Our other speaker is Dr. Tiffany Eberle Kriner, associate professor of English.  Tiffany did her PhD at UW-Madison and was involved in GCF there.
It's become a tradition to have a joint GCF Winter Retreat with the Northwestern GCF, the U of Chicago GCF, and this year Purdue U GCF and with graduate students from the Milwaukee area. This academic year the Retreat was on How do you take a conversation from discussing the weather to something deeper? Have you wanted to have a spiritual conversation with your friend or colleague and yet wondered how to begin?  This year we are excited to welcome Mark Good, PH.D., BCD, author of Real Talk: Creating Space for Hearts to Change (forthcoming, March 2017).
Enjoy some photos from past Winter Retreats.