2023-2024 School Year
What – Exploring the Gospel of John (from within the horizon of the One Ongoing Biblical Story that includes us today) Our first gathering will be to get to know one another and explore what we will do this year. We'll be in John both semesters.
NOTE: If you're not sure about what you believe about Jesus and still "doing research" about the Christian faith, you'll love being in this small group. If you've grown up in the church and reading the Bible has become stale, you'll love being in this small group. We will meet and rediscover the Jesus of Scripture (versus cultural versions or caricatures of him).   
Note: Also, masks will be optional only. Though there will be air purifiers in operation.
When – Wednesdays, 7:30pm to 9 pm, starting August 30 (I work to end on time while hoping we also begin so) 
Where – David's house (location details to those who use the Wednesday SG contact form)
Leader – David Suryk, Campus minister with InterVarsity's Graduate and Faculty Ministries. David has four earned degrees in economics, law, and philosophy. He enjoys learning across the academic spectrum.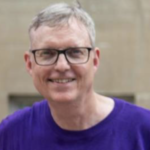 Please use this form below to let David know to expect you.