Fall 2021
What – The Sermon on the Mount  
We will be going through the Sermon on the Mount (Matthew 5-7) to learn what the life of a follower of Jesus looks like. The teachings and commands in the Sermon on the Mount are all focused on heart issues because when we are in a relationship with Jesus, He transforms our heart which then leads to a transformed life. We will focus on practical applications for our individual lives and for how we shine the light of Jesus to those around us.
When – Wednesday night, 19:30 – 20:30 
Where – Ted and April's apartment in Urbana at 504 E Michigan Ave, Apt 10 on the first floor. The apartment is the farthest from the street on the side of the (brown) complex facing the orange brick buildings. The Green bus line stops half a block from our house, but please also let us know if you need a ride on the sign-up form!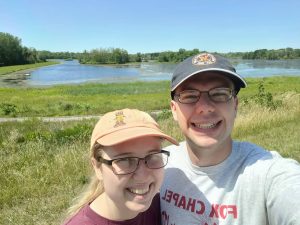 Leaders – April Townsend is a fourth year physics Ph.D. student, and Ted Townsend is a second year math Master's student. They both attended Wheaton College in the suburbs of Chicago for undergrad, and have been married for two years. Ted is originally from Pittsburgh, Pennsylvania, and April grew up as a missionary kid in Chiang Mai, Thailand. They enjoy bird watching and board games (and plan to have periodic small group board game nights!)
Please use this form below to let April and Ted know to expect you.